Gallery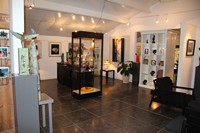 Autumn 2007 we opened our gallery at the Oosterveen in Nieuwleusen, The Netherlands. This year we celebrate our fifth anniversary. We organised a beautiful exposition with a ceremonial opening.
The gallery combines a big area for paintings, figures and glass art with an artist studio, a multifunctional room and terrace with a lovely look on the historical farm landscape. With over 300 sqm our gallery has become a light-flooded and surprising place sectionalized in 4 areas. The walls and corners of our gallery support ultimate possibilities to show all kinds of art work.
You will see different expositions during the year. We rebuild our gallery interior adapted to the seasons of the year. Our expositions contain beautifull and regurlary changing kind of arts and artists, who have earned their wall of fame as well in as abroad Europe.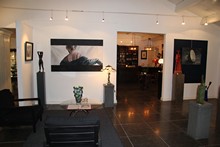 Besides selling visual arts and painting materials, the gallery aims to organise several workshops and painting lessons. Our gallery is also a very suitable location for company events, for example in combination with a special like wine tasting in our winebar. Please contact us by phone or e-mail for further information.